100% Genuine Products Buyers Protection
We sell only genuine products from the most trusted sex dolls manufacturers like WM Dolls, JY Dolls, SY Doll, Irontech Dolls, Game Lady and etc. 
All of our dolls shipped will have a certificate of authenticity where you can check their corresponding codes on the official websites:
Click here to check authenticity for WM Dolls.
Click here to check authenticity for JY Dolls.
100% Money Back Genuine Guaranteed
Our dolls are 100% genuine and directly shipped by the corresponding manufacturers in China (or U.S. dependent on if the products sold are in stock, or custom made).  All dolls you receive will have a "Certificate of Authenticity" attached (like the photos below), and you can check via the manufacturers' official website.  If you believe your doll(s) received is, are fake, you are happy to report to the official websites and contact our customer service here for a 100% money back guaranteed.
Certificate of Authenticity
WM Dolls
Here are what the Certificates of Authenticity look like as per manufacturer: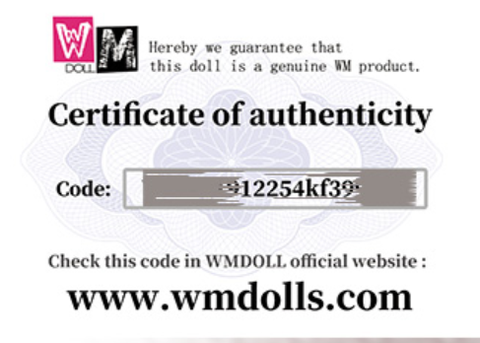 JY Dolls (Only Chinese version is available at the moment, basically it is saying just scratch the card and scan the QR code)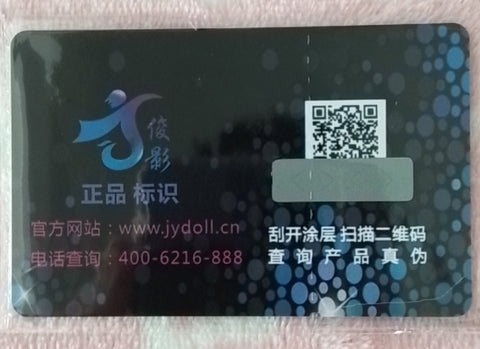 Terms & Conditions
The "100% money back guaranteed"  is only applied to original brand products, that are but not limited to 'WM Dolls', 'Aibei Doll', 'JX Doll', 'Irontech', 'JY Dolls', '6YE Doll', 'Game Lady', 'SY Doll', 'Climax Doll', 'Jiusheng Doll', 'AXB Doll' etc and the products must be sold on pgdoll.com with evidence on your credit card, PayPal statements or any information that we can identify you as our customer(s). We

 

DO not accept fake product claims that are sold by other websites nor vendors.  
Customer(s) must contact our

 

support via email

 

in no later than 72 hours after they receive their products for further investigation. Failed to so do so may result in delaying of the refund process, or simply denial of request.
The "100% money back guaranteed" only covers if the doll sold are fake on superlovedoll.com. If you find defects or any other kind of imperfections on the dolls you receive, please kindly refer to our Refund or Exchange policies here.